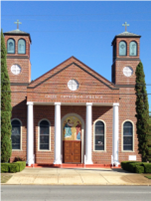 Welcome one another, therefore, just as Christ has welcomed you, for the glory of God." - Romans 15:7
Welcome to the Annunciation Greek Orthodox Church of Pensacola, Florida. Through this web site, we are pleased to be able to introduce you to that same worship and fellowship as it is expressed in the life of our Parish. If you are a new member of our parish, or are considering membership, these web pages will acquaint you with what our parish offers to those who give it support and sustenance; to those who already belong to the church, we hope they will provide you with the assurance that your sacrificial offerings are received with profound respect, and are utilized to maximum effectiveness. They will, in any case, enable you to make the informed decisions that are necessary for a meaningful relationship with your church!

Our Presiding Priest is Rev. Fr. Matthew Carter.
The Annunciation Greek Orthodox Church is under the jurisdiction of the Metropolis of Atlanta, under the Greek Orthodox Archdiocese of America which is an Eparchy of Ecumenical Patriarchate of Constantinople.
Worship Schedule
Sundays
Orthros (Matins): 8:45AM | Divine Liturgy: 10:00 AM
Weekdays
Orthros (Matins): 8:00AM | Divine Liturgy: 9:00 AM
Saturday, May 28th
10:00 am Philoptochos General Meeting
11:00 am Philoptochos End of the Year International Day Celebration Luncheon
Sunday, May 29th, Sunday of the Samaritan Woman
8:45 am Orthros
10:00 am Divine Liturgy
40-day Memorial - Thalia Silivos
Monday, May 30th
Office closed in observance of Memorial Day.
Tuesday, May 31st
10:30 am Bible Study
Sunday, June 5th, Sunday of the Blind Man
8:45 am Orthros
10:00 am Divine Liturgy
Children's Sermon
Wednesday, June 8th, Apodosis of Pascha
8:00 am Orthros
9:00 am Divine Liturgy
Thursday, June 9th, Holy Ascension
8:00 am Orthros
9:00 am Divine Liturgy
Refreshments following Divine Liturgy
Sunday, June 12th, Fathers of the 1st Council
8:45 am Orthros
10:00 am Divine Liturgy
40-day Memorial Anastasia Zervas